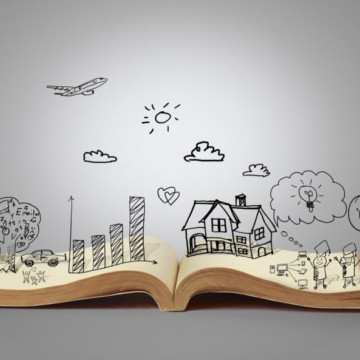 Year 12 Literature Units 3 and 4
Overview
Literature is the intimate record of people's values, ideas, experiences and conflicts. It helps us make sense of our experience of life.
Literature Units 3 and 4 explore the ideas in a range of text types, including poetry, drama, prose and film. Throughout the course, you will analyse how language, literary devices and production elements are used to create meaning.
You will also consider a variety of viewpoints on aspects of the texts. Then you will use textual evidence to develop and justify your own interpretations. The units will focus on the significance and implications of the views and values examined. They will also consider the role of form, genre and context in the creation of literary works.
Who is it for?
This subject is perfect for students who have a love of literature, an inquiring mind, and a desire to understand the elements that make good literature. Students who study Literature go on to a range of different areas of study, and may pursue a career as a writer of prose, film, games or other media.
What do you do?
In Adaptations and transformations, you will consider how the form of a text affects meaning, how writers construct their texts, and the way that the meaning may change when it is adapted and transformed for another form.
In Developing interpretations students explore the different ways we can read and understand a text by developing, considering and comparing interpretations of a set text.
In Creative responses to texts, you will focus on the imaginative techniques used for creating and recreating a literary work, and use your knowledge of how the meaning of texts can change as form changes to construct your own creative text. You will also reflect critically upon your own writing.
Finally, in Close analysis, you will focus on detailed scrutiny of the language, style, concerns and construction of texts, and attend closely to textual details to examine the ways specific features or passages in a text contribute to their overall interpretations.
What skills do you need?
In order to be successful in your study of Literature, you will need a capacity to analyse texts in a range of forms, and to express your ideas clearly and concisely both in writing and verbally.
What skills do you develop?
You will become familiar with the literary devices that authors use in creating meaning in a text and will have the opportunity to develop coherent and insightful essay responses to texts.
Requirements
Literature texts for purchase:
Unit 3
Chiang, Ted, Stories of Your Life and Others, Picador, 2020
Selection for study: 'Tower of Babylon', 'Understand', 'Story of Your Life', 'Seventy-Two Letters', 'Liking What You See: A Documentary'
plus
Film adaptation – Arrival directed by Denis Villeneuve   – accessible via multiple streaming services
Zola, Emile, The Ladies' Paradise, Brian Nelson (trans.), Oxford World's Classics, 2008
Unit 4
Stoker, Bram, Dracula, Penguin Classics, 2003
Dickinson, Emily, The Complete Poems, Faber and Faber, 2016
Murray-Smith, Joanna, Berlin, Currency Press, 2021
Things to think about
You will need strong literacy skills and an ability to express sophisticated ideas coherently in writing. And, of course, you should have a love of reading.
Things you can do now
Start reading the texts as soon as possible. Seek out published articles on the texts to get some other views and interpretations.
To complement Ted Chiang's short stories, we study the film adaptation of Story of Your Life, which is Denise Villeneuve's Arrival. You can take this opportunity to watch the film.
Go to the VCAA website for more information about this subject.
Things to have a look at
A Taste of Honey (1961) clip
Promo for the movie Arrival, the film adaptation of a Ted Chiang short story.