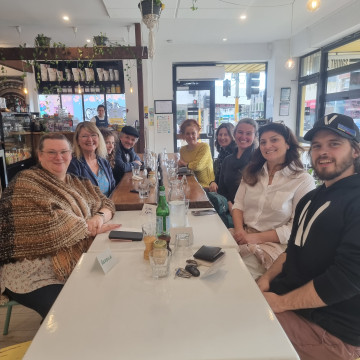 "Friendship is born at that moment when one person says to another, 'What! You too? I thought I was the only one" – C.S. Lewis
Virtual School Victoria (VSV) parents recently gathered at All Things Equal Café to meet other parents/ carers.
The meetup provided a platform to share stories, discuss the joys and challenges of supporting VSV students, and find solace in a community of like-minded individuals.
Parents and carers engaged in authentic conversations, while enjoying coffee and tasty treats.
They discovered a sense of unity, realising that others truly understood their unique parenting journey.
The event received glowing feedback, with parents expressing gratitude for the connections made and eagerly anticipating future gatherings.
All Things Equal is a social enterprise that provides purposeful employment for people with and without disability in mainstream work environments. It celebrates people "just as they are."
Jordan Anderson, Leading Teacher – Family & Community Partnerships, said the event at All Things Equal exemplified the power of unity, understanding, and mutual encouragement among VSV parents.
VSV parents and carers are welcome to join us at our next in-person community event being hosted at the For Change Café in Bellfield early September. Check your Term 3 Guide as a parent or carer or reach out to Jordan at [email protected] to register.
Subscribe to Virtual School Victoria
Receive updates of all the latest school, community, sports news and events.