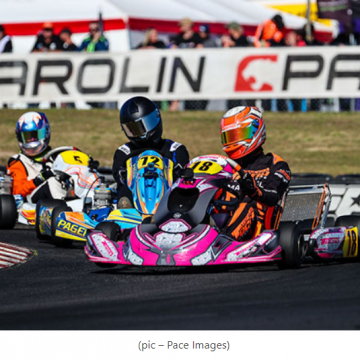 Year 10 Student, Cohen, zoomed up from his 16th ranking to number 10 at the recent National Kart Championships in Emerald. 
Cohen, who only started karting 18 months ago, was thrilled with the result.
'I'd done a ton load of practicing at my local track in Seymour so it was good to see that pay off,' he said.
Cohen is now working on his fitness and mindset to prepare for the next competition.
'People can be surprised to find out that fitness is important for karters. You move your body a lot in the kart to help with weight distribution; it's important to have the weight where and when you want it,' he explained.
Mindset is also important for this competitive racer.
'You need to be in the right headspace when you race. You can't race when you are feeling negative, but at the same time you don't want to be over-excited as this can make you anxious,' he said.
Cohen appreciates the flexibility that Virtual School Victoria provides, as he and his family are often on the move so he can compete at interstate races.
'Dad drives a truck with me, my mum, my three siblings and the karts to all the races. He also does the mechanics and gives me advice on how I can race better. My mum cheers me on, and sometimes my brothers and sister join in too!'
Photo courtesy of Pace Images
Subscribe to Virtual School Victoria
Receive updates of all the latest school, community, sports news and events.