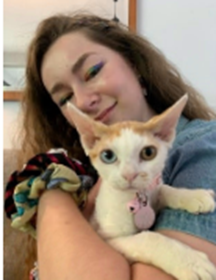 President: Michaela (Y12)
Hello VSV – my name is Michaela* and I am your 2022 Student Representative Council (SRC) president!
This means it is my duty to look out for both my fellow SRC and all of you guys whilst also representing the VSV cohort both in and outside of the classroom.
I am very excited to take up this role as at my previous school I was a part of both the SRC and Peer Support group. This role focused on the integration of the junior year levels into the senior years, and it grew my love of looking out for people and ensuring the comfort and safety of my peers.
I hope that by making myself available to you all I can bring your ideas to our weekly SRC meetings and create change. I hope to bring our greatly expanding VSV community closer through things like study groups and virtual hangouts.
Outside of the classroom, I love video games and art. And if I'm not playing games or attempting to paint, I'm working at the local Woolies, volunteering at the Salvos, or binging all nine seasons of The Office for the eighth time. Or studying – of course 🙂
I am very excited to be here and to help make a difference for the 2022 cohort!
 
Vice President: Ciri (Y11)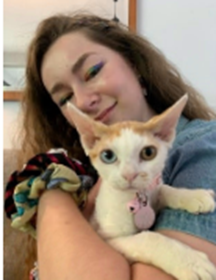 Hiya! I'm Ciri. My pronouns are she/they and I'm currently in Year 11.
I joined the SRC because I wanted to help make VSV the best place possible. I know what it's like to feel excluded, or not heard, and I want to make sure that everyone can feel seen and that they are a valued part of the VSV community – because they are!
I cannot promise that I can make maths homework non-existent (sorry!), but as vice-president, I will listen to each suggestion and idea you have, and then do my best to make them a reality. Got a project in mind? Let me know! New club? Hit me up! Something that could be done better at VSV? I'll see how we can fix it! Half-finished ideas? I'm here for it! Your ideas matter.
Now, a bit about myself outside of the SRC, because I am, in fact, a person: I love glitter, animals, D&D, Girl Guides, anything creative, learning, and advocacy! I'm also disabled, neurodiverse and queer – the perfect combo.
I am a COVID-19 Youth Ambassador with YACVic, so I helped design a social media campaign – you can check out our TikToks and Insta reels @/YACVic! I have also been helping design a set of new badges as part of the Youth Forum. I have been a junior leader at my local Girl Guide unit for almost four years, and I've recently been working at a state level around the topic of disability.
Subscribe to Virtual School Victoria
Receive updates of all the latest school, community, sports news and events.