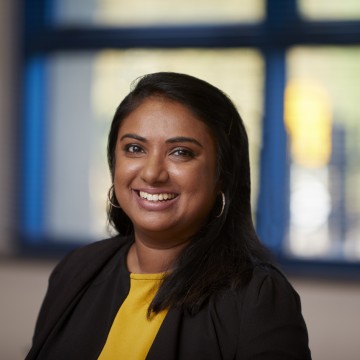 Virtual School Victoria (VSV) recently celebrated a significant milestone – the first anniversary of delivering the Victorian High-Ability Program (VHAP).
Almost 18,000 Victorian students in Years 5-8 have participated in the State Government initiative that supports government schools to extend their high-ability students.
The virtual program, developed and delivered by Virtual School Victoria, consists of intensive ten-week online courses in Mathematics and English for students in Years 5-8.
Vani Manokaran, VSV's Assistant Principal for the Victorian High-Ability Program, said she is delighted with the program's success.
'I have an incredibly motivated and talented team of teachers who work together so well. The feedback on the program over the past year has been overwhelmingly positive from parents, partner schools and students,' she said.
One parent recently emailed to say what a joy it is to hear the lessons.
'I have heard a few of the sessions in lockdown and they really make me smile. Honestly I can't rate it highly enough.'
A teacher at one of the partner schools has additional praise for the program.
'I absolutely love this program. The staff, students and parents do too. Students strive to do their best, so they can get in the program.'
Vani points out that students really appreciate the opportunity to focus on the subject they are passionate about, study with like-minded students and have no assessments.
This is a view shared by VSV and VHAP student Arohan.
'I am enjoying the VHAP sessions a lot. I have learnt about ciphers and the Caesar shift. I have even created my own number system!'
Vani noted that students feel more confident in their work when they are studying with like-minded peers and tend to flourish.
'I am seeing some outstanding work; it's difficult to believe that students in Years 5-8 are solving complex maths problems and writing incredibly poignant short stories and poetry,' she said.
VSV VHAP teacher, Kathy Harrison, is also impressed by the calibre of students' and teachers' work.
'Being a VHAP teacher is all about the rabbit holes: always being ready to listen to and run with the amazing ideas that students have. We embark on a journey of discovery when we explore together. I am constantly challenged, intrigued, stimulated and delighted by what I learn alongside my students and colleagues,' she said.
Vani said that the program provides valuable opportunities for high ability learners who benefit from additional challenges.
The Victorian High-Ability program will provide up to 48,000 high-ability students in Years 5 to 8 at government schools the opportunity to participate in 10-week online extension and enrichment programs, in English and mathematics.
Photo of Vani Manokaran
Subscribe to Virtual School Victoria
Receive updates of all the latest school, community, sports news and events.