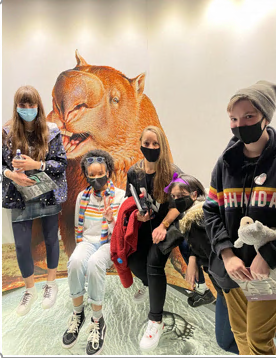 Luck was on our side when students from Years 7-10 caught up for the recent Connect Week just a few days before lockdown.
Around 1000 students connected over four days for engaging lessons, career workshops, a Student Voice club extravaganza, year-level assemblies and a mindful art class. Students also participated in a virtual excursion to ACMI where they discovered some secrets of movie making.
An in-person excursion to Melbourne Museum proved popular, with 55 students attending this booked-out event.
Carly McDermott, who leads Student Engagement for Foundation-Year 9, said the day was a tremendous success.
'The week brought about a strong sense of community – something we are keen to foster among students. Personally, it was a real highlight seeing all the students in their year-level assemblies and acknowledging and celebrating students who are living the school's values – empathy, respect, collaboration and growth,' she said.
Carly also said that she received a number of emails from students who commented on how much they enjoyed the opportunity to be part of engaging and inspiring sessions with both VSV teachers and external presenters.
'It was a fantastic week…and all the better because we squeezed it in just before lockdown was announced,' she enthused.
Subscribe to Virtual School Victoria
Receive updates of all the latest school, community, sports news and events.