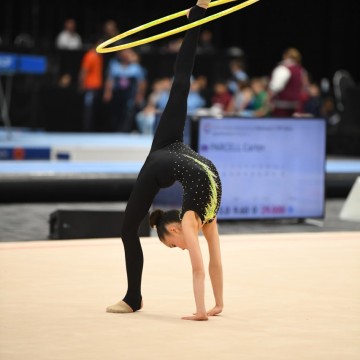 Eleven year-old Elodie has done herself and Victoria proud after scooping a silver medal in hoop apparatus at the recent National Gymnastics Championships on the Gold Coast in the 11-13 category. She also placed fourth in the whole competition.
It was touch and go if Elodie, a Victoria State Champion, would make it to the Gold Coast with an expected announcement of Victoria's snap lockdown.
'We knew a lockdown was going to be announced – but didn't know when. Thankfully our flight left a few days before the announcement. There were a few days where we weren't sure if I could compete,' she said.
Competing in a range of events, including hoop, ball, club and freehand, the Year 6 Virtual School Victoria (VSV) student said it was "cool" to participate in this peak event.
'There were a number of qualifying events to make the six-member Victorian team and I needed to average a specific score. I really liked performing in front of an audience and entertaining them at the competition,' she enthused.
Elodie has worked hard for her success, training almost 27 hours a week in both gymnastics and dance.
Her mother, Lydie, pointed out that the Victorian team showed incredible commitment to their training with last year's lockdowns.
'It was a huge achievement for Elodie to rank at Nationals as she trained at home in lock-down for six months. The training schedules of gymnasts in other states were barely, if at all, interrupted due to the pandemic.'
Elodie said that VSV plays an important role in helping her pursue her sporting dreams and education.
'VSV lets me manage my schoolwork around my training schedule so I don't fall behind with my learning.'
This was the second time that Elodie has represented Victoria in the national championships. 
Subscribe to Virtual School Victoria
Receive updates of all the latest school, community, sports news and events.