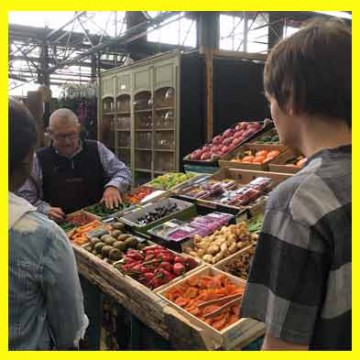 To market, to market! VCE Food Studies excursion to Prahran Market
On Thursday, 2 May a group of VCE Food Studies students attended the Prahran Market to investigate multicultural cuisines of importance in Australia, and food trends such as organic and sustainable produce.
Our very knowledgeable tour guide, Declan, escorted us around the market. He introduced us to a range of market traders who informed us about organic meat and produce, gourmet and rare mushrooms, popular Asian ingredients, and Greek and Middle Eastern cuisine. We were lucky enough to be able to taste a gourmet dip (priced at $100 per kilo!), French cheese and Turkish delight.
Following our tour, we made Vietnamese rice paper rolls in the Neil Perry kitchen, compared organic and conventional apples, and tasted Greek biscuits. The students had a great time on the tour and participated eagerly in the practical activities. It was also great to see some new friendships developed.
Lee-Anne D'Agostino and Pauline Morrison
VCE Food Studies Teachers
Subscribe to Virtual School Victoria
Receive updates of all the latest school, community, sports news and events.