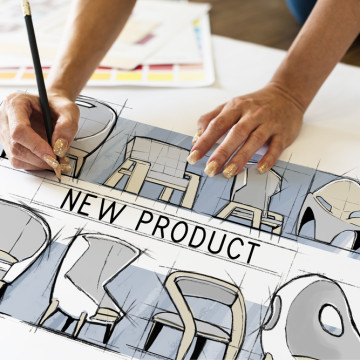 Year 12 Product Design and Technologies Units 3 and 4
Overview
In this subject, you will explore an end-user's needs and design and make a product for them. The major project (School-assessed Task) is worth 50 per cent of the final assessment; it starts in Unit 3 and continues in Unit 4. It consists of a folio of design and developmental work and a product.
Other theory tasks about design, industry, products and sustainability contribute 20 per cent to the final score. A final exam also contributes 30 per cent.
Who is it for?
The subject is for students who not only like to create, but who are passionate about the discipline of design. You will learn to solve design problems, which is a skill that can be applied throughout your life. You will also learn a lot about materials and sustainability issues.
What do you do?
You will:
learn about design in industry
decide on end-user to solve a personal, local or global design problem and follow the Double Diamond Design process
learn about the factors that influence design and use design thinking
complete an e-folio, using the Double Diamond design process with a design brief, evaluation criteria, research, drawing and modelling ideas; planning of your time, materials, safety and construction methods for your own design
make the product you designed and evaluate it
consider sustainability in product design.
What skills do you need?
Thinking and self-management are great skills for design. A willingness to research widely, try things, seek out help and use critical, creative and speculative thinking to propose creative solutions to a problem.
Strong drawing skills (using hand or digital methods) and practical skills for construction are beneficial in this subject, but they can be developed with deliberate practice.
What skills do you develop?
You will develop the following skills by using the Double Diamond Design Process:
problem solving skills
learning to think outside the square
learning to question everything, (Why has something always been done this way? What if…? What are the problems with…? What are the benefits of…?).
Other skills you will develop in this subject include planning and time management, critical and creative thinking, designing by using sketches or design tools, the ability to choose appropriate materials, processes and tools and use them safely, and file management and general organisation skills.
Requirements
This is an online course. Students access the content and submit work online on a weekly basis.
Students are expected to purchase their own materials.
Photographs of work need to be taken as evidence, so a digital camera or mobile device is required.
Students working in:
wood, plastics or metal – need access to a fully equipped workshop with all safety equipment and a supervisor who has completed Department of Education and Training safety requirements (essential)
textiles – need access to sewing machines in either the classroom or at home.
Things to think about
Self-motivation is essential in this subject as it is not a matter of right or wrong answers. You need to be comfortable with a blank page, where you create your own project according to the requirements of the task. Asking for assistance along the way is vital.
It is important that you have access to the tools or equipment needed to make the product you design.
Things you can do now
Practise drawing
Learn the language of the design elements and the design principles to give ideas and explain your drawings and ideas. Practise using pen (not pencils) with bold outlines and colour.
Start Researching and Practising Skills
Depending upon the material category you have chosen to work in – wood, metal, plastics or textiles – you can research and practise further skills. Make something over the holidays and try something you haven't done before There are many instructional videos and websites on the internet. Below are some examples:
Learn about the Double Design Process (2 minute video)and the Factors that influence design in the 2024 – 2028 Study Design on the VCAA website. To find the Study Design and more information about this subject, go to the VCAA home page for Product Design and Technologies