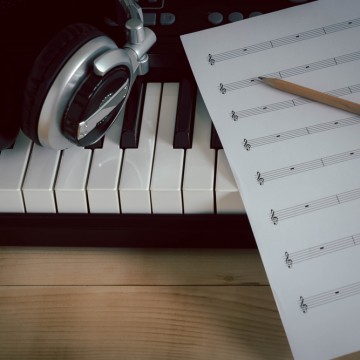 Year 12 Music Composition Units 3 and 4
Overview
Music Composition is a VCE music subject. It is ideal if you love to create your own music and investigate how other music is put together.
There are three main areas: Creating, Analysing for Composition, and Responding.
In Creating, you get a chance to create your own music. Unit 3 requires two very short exercises in response to the music we cover. In Unit 4, you create a music piece of 4 – 5 minutes. The style is up to you, as long as you meet some specific guidelines.
Analysing for Composition looks at the organisation of music works. We put specific pieces of music from different styles/traditions under the microscope and explore their construction. In Unit 3, we explore 2 short movements by Igor Stravinsky and also a short work by Australian jazz composer Andrea Keller. This study will help you develop a Folio Design Brief that will aid planning for your Unit 4 Folio composition. In Unit 4 you will analyse the development of your Folio composition, documenting the creative process.
In Responding to music, your job is to listen and respond to music from a range of different eras, locations, and styles. Examples include: Medieval chant, jazz recorded last year, traditional music from Peru, Beethoven string quartets and songs by Radiohead.
Pre-enrolment form:
Part A: Student form – to be completed by student and guardian.
Who is it for?
Music Composition is ideal for every student who has an interest in creating their own music as well as for those who love listening to music in a wide range of styles.
You are not assessed on performance at all, but on the music you create and how much you 'get' the music you study and listen to.
What do you do?
In Music Style and Composition you will:
create short musical compositions using some discovered techniques in Unit 3, and a major work (4 – 5mins) in Unit 4.
delve in depth into two musical works in different styles and writing about what you learn.
write responses to short extracts from a huge range of music in every style imaginab
What skills do you need?
There are no prerequisites, however:
reading music is an essential part of the study.
completing VCE Music 1+2 beforehand and having AMEB Theory to grade 3 is an advantage.
previous participation in musical ensembles and other music activities is an advantage.
What skills do you develop?
You will develop skills including:
compositional techniques and creative reflection.
music analysis
active and focused listening and response strategies
Requirements
Internet is needed to access this course. All work will be completed and submitted online weekly.
Recording and/or notation software for creating original music is required. Our recommendation is Sibelius. Sibelius First is a free entry-level program.
Creative submission must include some form of notation.
Pre-enrolment form:
Part A: Student form – to be completed by student and guardian.
Things to think about
Creative work is assessed externally by the VCAA, and that means creative work needs to follow specific guidelines. There is some freedom, as long as certain criteria are being met.
There is also a short end of year listening exam, again assessed externally by the VCAA, focusing on listening responses.
Reading music is a distinct advantage, as is some music theory knowledge.
Things to have a look at
Link to VCAA presentation about Unit 3/4 Music Composition
Making Waves 2021
New compositions and performances from VSV VCE Music students