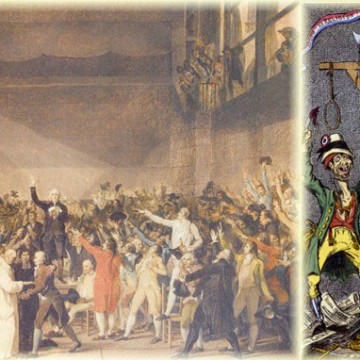 Year 12 History: Revolutions Units 3 and 4
Overview
In this subject you will look in depth at two major revolutions that have shaped the world as we know it:
the French Revolution (1774-1795)
The American Revolution (1754–1789)
These were moments of radical social and political change. Revolutionaries made deliberate attempts to break with past traditions and ruling regimes to transform society and government.
You will start by examining the significant causes of revolution. Part of this is to consider the role different ideas, events, individuals and popular movements had in creating a revolutionary situation.
You then focus on how the revolutionaries went about trying to create a new society. You will look at how the new regimes were both threatened and radicalised. Then you will evaluate historical interpretations about the success of the revolution; the new regime's consolidation of power; their compromise of revolutionary ideology; and finally, the degree of change brought to each society.
In Unit 3 you will study the American Revolution and then, in Unit 4, the French Revolution.
Who is it for?
This subject is for students who are:
curious about the past
open-minded when considering new ideas
willing to argue their point of view using persuasive evidence
passionate about learning how historical events have shaped, and are continuing to shape the world today.
What do you do?
In this subject you will:
develop historical arguments based on evidence
read and analyse primary and secondary sources.
What skills do you need?
This course requires lots of reading, analysing and writing. Having a questioning and curious attitude as well as good time management will help you in this course.
What skills do you develop?
In this subject you will develop:
a range of different critical thinking and reasoning skills
a proficiency in analysing evidence and putting forward detailed and convincing arguments
an ability to understand, evaluate and critique the interpretations of different historians
understanding of how the historical debates that are covered in this course still impact and shape our ideas, leaders and society today.
Requirements
Internet is needed to access this course. All work will be completed and submitted online weekly.
Things to think about
History: Revolutions is very popular, but also very challenging. In order to successfully complete both Units, you will need to commit to undertaking a substantial amount of reading each week.
You will also need to keep up to date with your weekly work submissions and keep in regular contact with your teacher.
Things you can do now
As we spend Unit 3 focusing on the American Revolution, that is where you should start.
Go to your local library (or school library) and borrow a book on the American Revolution to read over the summer holidays. You could try a narrative history. Or you could try a short introductory history book.
For Unit 4 on the French Revolution:
Go to the VCAA website for more information about this subject.
Things to have a look at
The French Revolution
Crash Course on the French Revolution.
American Revolution
PBS documentary series on the American Revolution