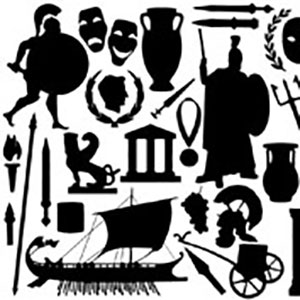 Year 12 Classical Studies Units 3 and 4
Overview
Units 3 & 4 VCE Classical Studies explores the literature, history, philosophy, art and architecture of Ancient Greece. The official study design tells us that such ancient civilizations are worthy of our study not only because of their vast achievements and contributions to Western civilization (such as in the fields of science, law, and politics) but also because they offer a unique perspective on humanity.
In this course, we will explore many aspects of Greek culture up to 399 BCE, including its history, customs, literature, art, philosophy, and religion. To explore their world we'll be using materials left to us by the ancient Greeks themselves – many of their writings and artefacts-, and the work of scholars – their commentaries and informative writings.
Who is it for?
This subject is for students with a keen interest in the people, events and ideas of the past.  It has a particular focus on the world and society of Ancient Greece.
What do you do?
You will read a selection of Classical Greek works in translation and study images of some artworks. When you read texts, or study artworks, the aim is to gain an understanding of the society and culture which produced them.
What skills do you need?
You'll need to be an enthusiastic reader, a critical thinker and a fluent and expressive writer with a sound command of English.
What skills do you develop?
This subject develops skills in research, analysis and the construction of an evidence based argument.
Requirements
Internet is needed to access this course. All work will be completed and submitted online weekly. You will also need to buy the following books:
Homer, The Iliad, Translated by Robert Fagles, Penguin Classics, 1998
Sophocles, 'Ajax' from Electra and Other Plays, Penguin Classics, 2008
Homer, The Odyssey, Translated by Robert Fagles, Penguin Classics, 1998
Things to think about
Students must be competent readers and writers.
Things you can do now
Go to the VCAA website for more information about this subject.
Things to have a look at
The Greeks (Part 1)
Excellent documentary about the Ancient Greeks Episode 1
The Greeks (Part 2)
Excellent documentary about the Ancient Greeks Episode 2