Year 12 Chemistry Units 3 and 4
Overview
In Unit 3 you will compare and evaluate different chemical energy resources. This includes fossil fuels, biofuels, galvanic cells and fuel cells. You will also learn how to perform stoichiometric calculations relating to gases and the energy produced during the combustion of fuels.
Skills you will develop include analysing the manufacturing processes related to factors that influence their reaction rates and the equilibrium law. You will also learn how to apply Le Chatelier's principle to different reaction systems.
In Unit 4, you will study instrumental analyses of organic compounds to confirm or deduce structures of organic molecules. In laboratory work, you will perform volumetric analyses to determine the concentrations of organic chemicals in mixtures. Investigations of organic reaction pathways look at the role of organic chemicals.
You will also study the chemical structure and hydrolytic reactions for food molecules. Plus, you will explore the roles of enzymes and coenzymes in facilitating chemical reactions. You will use the calorimeter to investigate the energy released in the combustion of foods. Both units involve the use of the language and symbols of chemistry, chemical formulas and equations. Practical tasks include the design and performance of well as collecting and evaluating experimental data.
Who is it for?
Chemistry is an ideal subject if you like science and have fairly good maths skills. There are interesting experiments to complete, where you apply what you have learnt and explain the things you observe.
Your maths skills help you to work out how much of a compound is produced, and compare it with what the amount you predicted. Chemistry also provides background for studies in health sciences, where chemical processes and calculations are a key focus.
What do you do?
complete five school-based assessment tasks including design and do a practical investigation and development of a structured scientific poster
conduct investigations or practical activities that include collecting, processing, recording and analysing qualitative and quantitative data; draw conclusions consistent with the question under investigation and the information collected; evaluate procedures and reliability of data
attend compulsory practical activities, revision seminars and regular online lessons
keep logbook entries, online interactives, class forum and online lesson, weekly quizzes and written exercises.
What skills do you need?
Chemistry is one of the studies in science. You must have completed either Chemistry Unit 1 or Unit 2 as a prerequisite for Year 12 Chemistry. Mathematical skills at the level of General Mathematics are expected. This minimum background in chemistry and mathematics is essential. You may also benefit from revision of key knowledge and skills in particular topics as the year progresses.
What skills do you develop?
By taking Chemistry you develop some very useful skills that can be applied well outside of the subject discipline, including:
problem solving
numeracy
practical skills
developing a broad scientific background.
Requirements
Internet is needed to parrticipate in this course. All work will be completed and submitted online weekly.
You will also need a scientific calculator to perform calculations.
We recommend that you attempt the pretest before enrolling into this subject. The pre-test provides feedback on the level of knowledge and skills assumed in Chemistry. An average study time of 7 to 8 hours per week is expected. Laboratory work occurs in each Unit and is compulsory.
The practical investigations in this course are compulsory. School-based students are expected to be given access to the laboratory at their home school and will need to be supervised while conducting experiments. This access and supervision will be required for half a day in terms 1, 2, and 3 (3 days in total). If you are unable to use a laboratory at your home school (or your home school is the VSV), you can attend the VSV laboratory in Thornbury. Laboratory days at VSV will require attendance for 1 day in terms 1, 2, and 3 (3 days in total).
The required textbook is Heinemann Chemistry 2 Student Book and Pearson eBook 3.0, Fifth edition, Hogendoorn, Bob et al, Pearson Australia.
Things you can do now
To help you understand what is expected in Year 12 Chemistry, you can attempt our pretest:
do the Chemistry Pretest (You can refer to chemistry notes and texts, but the test should not take more than about an hour.)
see what our recommendation is.
To refresh your knowledge of Year 11, you can attempt on the following activities during the summer holiday:
Go to the VCAA website for more information about this subject.
Things to have a look at
Chemistry Lab Day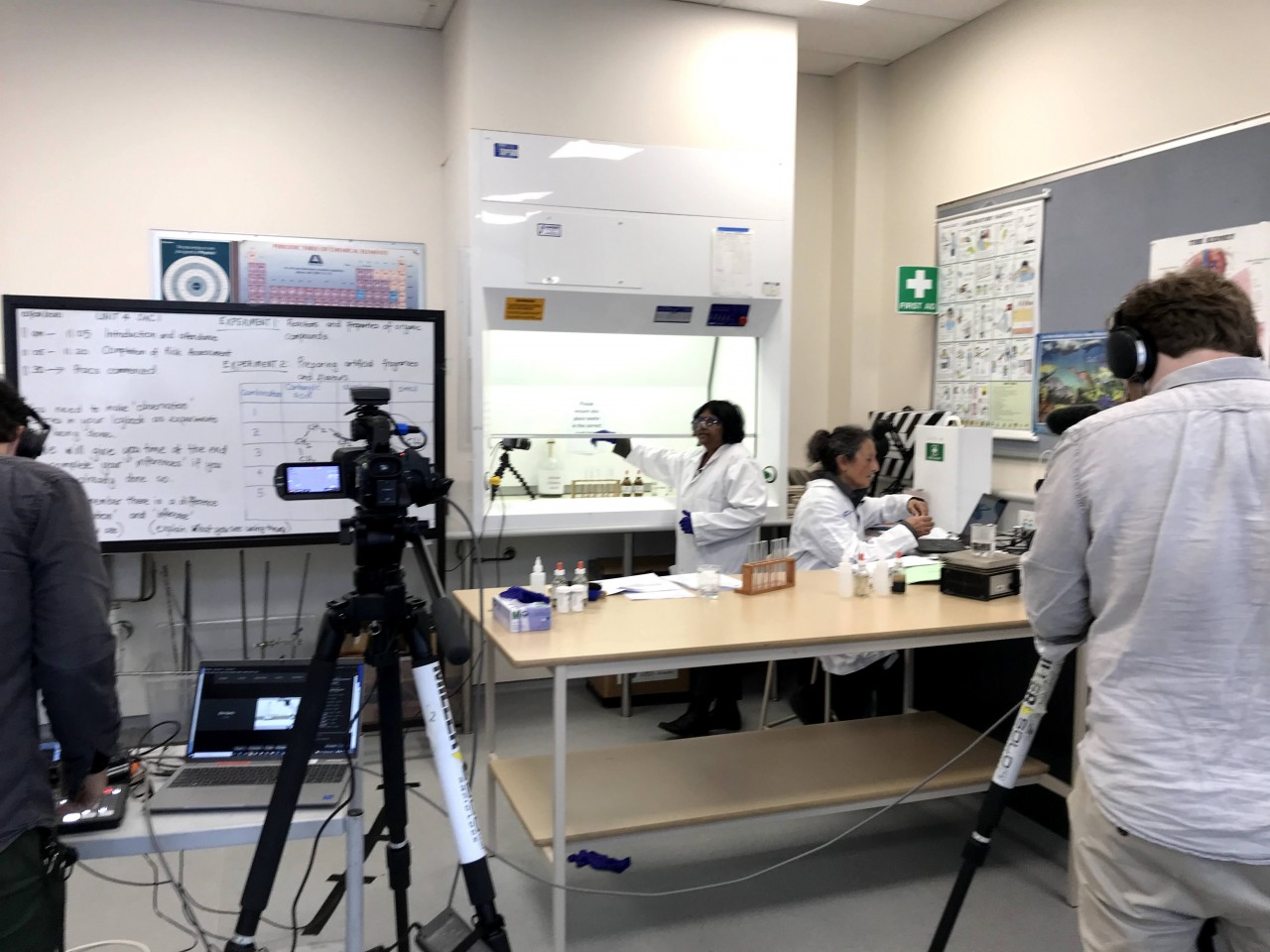 Live stream Chemistry practical class – August 2021 at VSV.