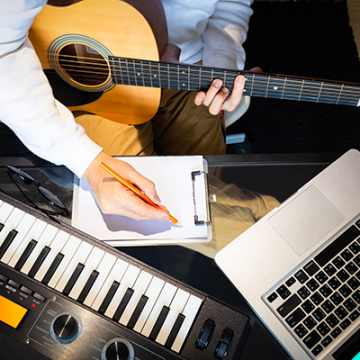 Year 11 Music Units 1 and 2
Overview
In Unit 1 you will develop an understanding of how music is organised. By performing, creating, analysing, and responding to music works that exhibit different approaches, you will develop an understanding of the possibilities of musical organisation. You will prepare musical works for performance which develop technical control, expression, and stylistic understanding. You create musical compositions that reflect your understanding and you develop a knowledge of the musical language as you analyse and respond to a range of different styles.
In Unit 2, you focus on the way music can be used to create an intended effect. By performing, analysing, and responding to music that creates different effects, you explore and develop your understanding of the possibilities of how effect can be created. Through the creation of your own music, you reflect this understanding.

Pre-enrolment form:
Part A: Student form – to be completed by student and guardian.
Who is it for?
This subject is for anyone who loves music, is open to learning more about a broad range of musical styles and would like to further develop their performance and compositional skills.
It is a natural precursor to the Year 12 music subjects and is useful for anyone currently studying a musical instrument and hoping to go on to tertiary music courses.
Those who would like to understand more about music and its different elements will enjoy this subject.
What do you do?
Preparing musical works for performance, compose music using digital technology, study and analyse  pieces, and develop aural awareness.
What skills do you need?
Concentration, patience, determination, and perseverance.
What skills do you develop?
Aural recognition
Performance technique and stagecraft
To respond analytically and critically to musical works
To compose within the parameters of a creative brief
Requirements
Reliable internet connection.
Laptop/desktop computer.
High-definition web camera (phone, laptop, iPad).
A quiet study/rehearsal space.
Instrumental Music Teacher (private or at school). This is not essential but is strongly advised.
Pre-enrolment form:
Part A: Student form – to be completed by student and guardian.
Things to think about
A minimum of Grade 2-3 music theory knowledge is suggested but not essential.
5 – 10 hours instrumental practise per week is suggested.
Experience with music technology is an advantage e.g., Logic, Cubase, Sibelius, Musescore.
Things you can do now
Study some basic music theory (Grades 1- 3)
• Become familiar with the layout of a piano keyboard (black and white keys, C major scale, etc)
• Familiarise yourself with Digital Audio Workstations (DAW's)
Go to the VCAA website for more information about this subject
Things to have a look at
An all-round music educator
Adam Nealy
https://www.youtube.com/c/adamneely
A must for film and television composers.
Spitfire Audio
https://www.spitfireaudio.com