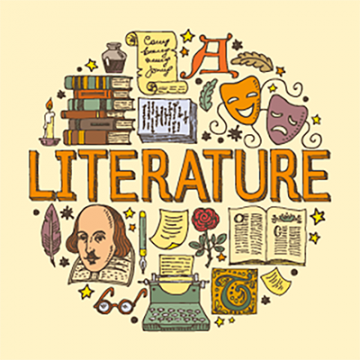 Year 11 Literature Units 1 and 2
Overview
This subject has been created for people who love texts of all types. Over two units of study, you will be asked to read and watch texts, reflect on them critically, and respond to them both analytically and creatively.
In Unit 1, you will begin by exploring the metaphysical poetry of John Donne, which you will learn to examine in great detail. Then you will consider how texts can fit within particular genres, and will examine two 'cosy crime' texts, The Thursday Murder Club (a novel) and Murder on the Orient Express (a film). In Unit 2, you will consider how two recent texts, the play script for The Visitors and the short story collection Flock, reflect contemporary understandings of First Nations concerns, including Culture, Identity and Place. You will then focus on one of the world's first Science Fiction/Horror novels, Frankenstein, and will consider how it reflects the socio-historical context of its creation.
Who is it for?
This subject is for students who love texts, and want to investigate how they are constructed and how they are both shaped by, and come to shape, the world around them. It is for students who reserve a special place in their heart for that special character or moment from a story. Maybe you are a budding writer or filmmaker, or maybe you just want to understand how language can be used to move a reader/viewer.
What do you do?
In Unit 1, to consolidate the understanding you have gained in the weekly work, you will be required to undertake two School-Assessed Coursework tasks (SACs). In the first, you will explore how the poet John Donne used language, syntax and pace in his metaphysical poetry, and will reflect on this in a 'close analysis' essay, which is great practice for students who plan to undertake Literature Units 3 and 4. In the second, you will use the cosy crime texts you have read and watched as the basis for developing your own piece of creative writing in either prose or screenplay form.
In Unit 2, you will demonstrate your understanding of how texts reflect and/or respond to the world in which they were created. Your graded assessments will take the form of an analysis of how a specific concern (either identity, culture, or place) is reflected in two or more short stories written by First Nations writers. You will then use what you know about why Frankenstein was created to pitch – or argue for – your own modern-day interpretation, one that responds not to Shelley's Europe but to our world today.
What skills do you need?
Whatever your experience in analysing or creating texts, the main things you need to bring to the study of Literature is an intellectual curiosity and the willingness to examine texts in depth.
What skills do you develop?
The skills you will develop are the capacity to examine texts closely and write clearly about how their construction affects meaning, as well as how it reflects the world in which it was created.
Requirements
The booklist is as follows:
Unit 1
Outcome One
The Complete English Poems, John Donne. Penguin Classics Edition (use selected material).
Outcome Two
The Thursday Murder Club, Richard Osman. Penguin 2020.
Murder on the Orient Express¸ 2017, dir. Branagh, accessed for free by students on clickview.
Unit 2
Outcome One
Flock, ed. Ellen van Neerven (anthology). 2021, University of Queensland Press.
The Visitors, Jane Harrison (play). 2021, Currency Press.
Outcome Two
Frankenstein, Mary Shelley. Penguin Classics Edition.
Things to think about
The main thing for students to consider before undertaking this subject is that they are confident in reading extended texts, such as novels, taking notes, and writing extensively on these texts. It is also important to understand that students will get the most out of the subject if they are able to discuss their views about the texts, and about Literature more broadly, with their peers. If you feel confident that you can do all of these things, you have the skills you need to begin the subject.
Things you can do now
Once texts have been purchased, students can get a head start on course requirements by reading/viewing each text once, purely for enjoyment.
Go to the VCAA website for more information about this subject.
Things to have a look at
ABC The book club – Jennifer Byrne Presents: Margaret Atwood
While we do not study any of Margaret Atwood's texts in this class, as a proud and long-standing Feminist, she is a great advocate for Literature and its capacity to reflect the world in which it is created.