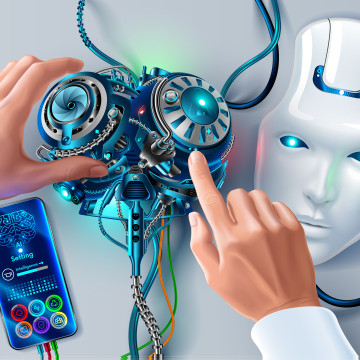 Year 12 Systems Engineering Units 3 and 4
Overview
Systems Engineering is only available to school-based students.
Systems Engineering Units 3 and 4 build on the knowledge and skill base acquired in Systems Engineering Units 1 and 2 to investigate the design, operation, construction, assembly, maintenance, repair and evaluation of electromechanical systems applicable to a diverse range of fields such as engineering, manufacturing, electrotechnology, and robotics. The study includes both theoretical and practical components and folio development, and furthers the critical thinking and problem-solving skills acquired in units 1 and 2 through a project-based learning approach.
Unit 3 'Integrated and controlled systems' covers physical aspects of engineering systems, mechanical and electrical engineering principles, energy sources. Additionally, students design and plan an electromechanical system to be developed in Unit 4 through experimentation, innovation, testing and evaluating. In Unit 4 'Systems Control', students build the electromechanical system they designed in Unit 3. Students further develop their knowledge and skills in project management, documentation, testing, evaluation, and risk management. Additionally, they improve their competency in workshop practices via a range of materials, equipment, tools and components.
Who is it for?
This subject is for students who:
like finding out how things work and solving problems in a hands-on, practical setting.
enjoy designing and making products with movable and electronic components
enjoy a combination of science and design.
Want to study tertiary technology courses, e.g. engineering and applied sciences, or skilled trades and vocational training in the electrotechnology and automotive sectors
What do you do?
Design, build and test electromechanical systems in the workshop using a range of tools, materials, components and equipment
undertake projects to respond to a project brief that requires you to design, build, test and evaluate products that include mechanical and electronic components.
understand the physics concepts behind mechanical and electronic systems.
What skills do you need?
An openness to experimentation through trial and error
a 'can do' attitude
be willing to spend the necessary time required to grasp the theoretical components of the study.
What skills do you develop?
How to think like an engineer by applying the engineering design process to solve practical problems
Physics concepts relevant to mechanical and electromechanical systems
Project management skills
Soldering, technical drawing CAD (computer aided design) and workshop production skills (woodwork or metalwork)
Requirements
Systems Engineering requires a fully equipped woodwork or metal workshop in order to fulfil practical course requirements. Additionally, electronics equipment such as soldering irons and multimeters, and components such as batteries, resistors, printed circuit boards, LEDs etc are required. Students must be willing to cover the cost of materials, equipment, and components that are not available in their home school workshop.
Things to think about
Systems Engineering is a combination of theory and practice, and it's important to manage both aspects simultaneously. You must also have a sound knowledge of general mathematical principles to understand the engineering fundamentals involved in the study.