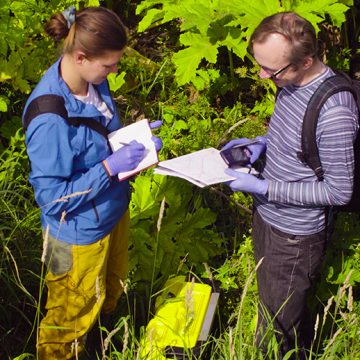 Environmental Science Units 1 and 2
Overview
Environmental Science is an interdisciplinary science where you get to learn things from Biology, Physics, Chemistry and Earth Science all in one subject.
It is all about the planet Earth!
In Environmental Science Units 1 & 2 you will explore the interactions and interconnectedness between humans and their environment, including the interactions between the atmosphere, water, earth and living things.
In Unit 1, you will focus on learning about the Earth's four systems and their components and how they are linked through their inputs, outputs and processes.
You will look at how the different systems formed, and use data and models to study Earth's systems and changes in Earth over time.
You will investigate how scientific investigations help develop understanding about how Earth's systems support life through by completing your own investigation.
In Unit 2, you will look at what affects Earth's capacity to sustain life. This unit focuses on managing pollution, as well as how food and water security sustain Earth's systems.
You'll compare the advantages and limitations of different agricultural systems for achieving regional and global food security, evaluate the use of ecological footprint analysis for assessing future food and water security.
You will also investigate how scientific endeavours contribute to minimising human impacts on Earth's systems.
Students complete 10 hours of practical tasks in Unit 1 and in Unit 2 to demonstrate their ability to work scientifically and use the key scientific skills.
.
Who is it for?
This course is for students who enjoy learning about planet Earth.
It is for students who are curious about how Earth supports life, and how the atmosphere, lithosphere, biosphere and hydrosphere are interconnected.
Students complete practical exercises that explore their local environments, and analyse the implications for the health of local and global ecosystems.
There will be opportunities to come to VSV to complete practicals and even go on an excursion.
What do you do?
Model the different environmental systems
Explore the ecology of local areas
Determine what makes something a pollutant
Calculate your ecological footprint
Analyse what threatens biodiversity on Earth
Investigate sustainable farming practices used to produce food
Complete student lead investigations into how Earth supports life and how to limit the impact of humans on Earth.
Use a log book to record practical experiments results
What skills do you need?
Curiosity.
Completion of Year 10 Science.
What skills do you develop?
Key science skills including the collection, analysis and evaluation of environmental data.
Requirements
All materials will be provided in the course.
We will send a practical kit out at the start of the semester with any equipment you need.
You will need to find a few things around home to complete the practicals.
At the start of each week we will let you know if you need anything from around the house to complete the experiments.
Things to think about
This is a great course for students who like Science.
You will use basic mathematics in this course and look at and use environmental data.
You'll also complete experiments and go outside to collect data and samples.
Things to have a look at
Global list of all the threatened species
Atlas of Living Australia