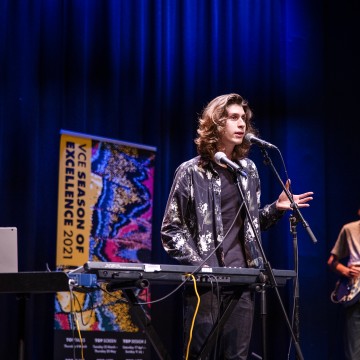 Two Virtual School Victoria students, Jakob and Erin, have scored coveted spots in Top Acts, the grand finale of the VCE Season of Excellence.
Only 18 students across the whole of Victoria perform in this two-hour event that showcases exceptional performances in dance, drama, theatre studies and music selected from over 150 performers from the Top Class shows.
Jakob created a short musical theatre piece called Heart of the House – a paranormal musical in 4 diary entries.
Erin's solo dance performance was based upon a concept of evolution.
Unlike Top Class which is presented as a part-concert, part-masterclass event, Top Acts is a fully produced concert with a dedicated artistic director. Works of dance, drama, theatre studies and music are blended together into a dynamic presentation that celebrates amazing work created by talented young performing artists.
Top Acts will be presented at the Melbourne Recital Centre in May.
Congratulations to Jakob and Erin and their respective teachers Tim Dargaville and Belinda Saltmarsh-Kram.
Photo of Jakob credit Nic Cleary.
Subscribe to Virtual School Victoria
Receive updates of all the latest school, community, sports news and events.