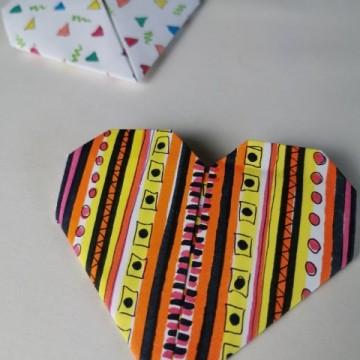 The world could do with a little more love right now.
To help bring some love into the world, Virtual School Victoria's (VSV) year 8 Art students are creating a piece of art all about love – and they need your help!
The project, The World Needs Love, is a huge heart made with over 1000 unique origami hearts. It will be installed on a wall at VSV and represent the love that our vibrant school community wants to send to the world.

Our year 8 Art students can't make this significant and symbolic piece without the help of our school community. They would like to ask every VSV family to make at least one origami heart and send it back to the school. The more you make, the bigger our heart.

Making an origami heart is quite simple. It's also a fun activity to do over the school holidays.

'Making an origami heart is not only good for the school, but it's good for you too,' says Belinda Jennings, a year 8 Art teacher at VSV.

'Origami helps develop hand-eye coordination, fine motor skills and mental concentration,'

Each heart takes around 15-30 minutes to make, and you don't need to be an origami master!

There are three simple steps to making a heart:
Make a piece of patterned paper
Fold a heart
Send your heart/s by 24 July 2020 to:
The World Needs Love
Virtual School Victoria
315 Clarendon Street
Thornbury, VIC 3071

We can't do this project alone and really need your help to send some love into the world.
Virtual School Victoria thanks you for your support!
Subscribe to Virtual School Victoria
Receive updates of all the latest school, community, sports news and events.