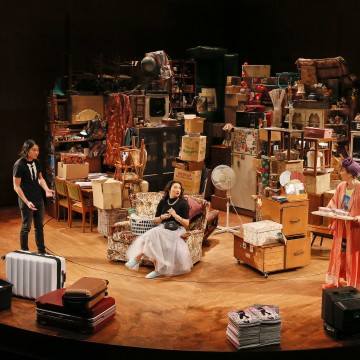 Year 12 Theatre Studies Units 3 and 4
Overview
Theatre Studies Unit 3 and 4 is a program supported by our friends at the Melbourne Theatre Company. We've developed a course that brings practicing actors, directors and designers to the online classroom, creative and construction workshops, and rehearsal spaces.
See professional theatre from the inside and apply this knowledge and skill to Unit 3. You will collaborate with your fellow students in production teams to interpret a script for presentation to an audience.
In Unit 4, you will develop a creative and imaginative interpretation of a monologue from a script. Students choose two production roles to specialise in: actor/director, costume, make-up, props, set, sound and lighting.
In both units, you will see live productions from the VCAA Theatre Studies play list, and have the opportunity to attend workshops and a camp to develop your theatre making skills.
Be part of a partnership that wants to see you from the front row, not just in the front row.
Image right: Fiona Choi, Charles Wu, Michelle Lim Davidson and Diana Lin in Melbourne Theatre Company's production of Torch the Place. Photo Jeff Busby.
Who is it for?
This subject is for students who enjoy engaging deeply with all aspects of theatre: as audience members, actors, directors and designers.
What do you do?
You will:
be a valued member of a production team
interpret a script across the stages of production
engage in creative and collaborative work in two production roles
specialise in acting and directing and/or:
specialise in design (costume, make-up, props, set, sound and lighting)
experiment with theatre technologies
apply dramaturgy to production roles
analyse and evaluate two live theatre productions
develop a creative and imaginative interpretation of a monologue
immerse yourself in all things theatre
What skills do you need?
You need to be able to speak clearly about your creative ideas and have the capacity to build collaborative relationships with others in your production team. You will be required to actively engage with all stages of the production process, analyse and evaluate two live theatre productions, commit to seeing a project completed and have a sense of adventure and exploration!
What skills do you develop?
Some of the skills you will develop are:
confident articulation and expression of your creative ideas
analytical and critical thinking in response to theatre scripts and productions
creative and imaginative thinking
theatre production specialisations: acting, direction and design
collaborative work as part of a production team
Requirements
Complete the Pre-Enrolment form:
Part A: Student form – to be completed by student and guardian.
Part B: School supervisor form – this form should be completed by the school supervisor when appointed.
This course is delivered online. You must have internet access and you are required to attend online classes. You will need your own a headset with a microphone and a computer with a webcam.
You will need:
a device to record work in progress with good quality image and sound
the support of a supervisor or mentor within the school to guide the theatre production processes.
Required textbook for this course:
Acting Smart, Theatre Studies (Version 8) by Jane Bird, Richard Sallis & Mark Bailey, Melbourne: Acting Smart, 2019.
Things to think about
You will be:
required to complete an Expression of Interest form and speak with the Theatre Studies teacher at VSV to confirm that you have the necessary supports to study this subject effectively
assigned a production team to work with
working collaboratively and independently
consistently documenting your contributions to your production team
required to develop your ability to analyse and evaluate creative and imaginative interpretations of productions
expected to attend production team meetings, rehearsals and take part in the presentation of a performance for an audience
required to attend one inner-city camp and two theatre productions
expected to invest in your ability to think, write and speak critically in response to theatre
presenting evidence of your contributions to your teacher and communicating with them via phone, email and through regular attendance at weekly 1-hour online classes
meet the VCAA assessment requirements for the study
assessed by your teacher for Outcomes 1, 2 and 3
assessed externally by VCAA in the monologue examination and the end of year written examination.
Things you can do now
Read through your copy of the required textbook which will give you an excellent overview of the subject: Acting Smart, Theatre Studies (Version 8) by Jane Bird, Richard Sallis & Mark Bailey, Melbourne: Acting Smart, 2019.
Visit the MTC Education page:
Step behind the scenes for a virtual tour of Southbank Theatre and discover how magic is created on stage in an MTC production.
Take a virtual tour of MTC HQ and explore the spaces where plays are rehearsed, sets are built and costumes are made.
Discover the ever expanding library of digital resources created especially for students by our friends at MTC
Explore the VCAA website for further information about Theatre Studies. Read the subject information, past exams and assessors reports. Find out about the subject through the VCE Theatre Studies Study Design.